$2 trillion coronavirus deal: Who will get stimulus checks and when?
$2 trillion coronavirus deal: Who will get stimulus checks and when?
Under the current plan, most adults would get a one-time direct payment of $1,200. But it may take longer than a couple weeks to get your money.
WASHINGTON — The White House and Senate leaders agreed early Wednesday on a $2 trillion economic rescue package, the largest in the country's history.
The bill comes in response to the viral pandemic that has shut down businesses and crippled economies around the globe. It would give direct payments to most Americans, expand unemployment benefits and provide direct grants and loans to businesses and hospitals.
The massive measure is the third coronavirus response bill produced by Congress and by far the largest.
The Republican-controlled Senate must still approve the bill before sending it to the Democratic-controlled House, so final details could change. Passage in the Senate was expected later Wednesday.
Who gets stimulus checks?
The bill, in the form circulating among lawmakers on Wednesday, would provide one-time direct payments to Americans of $1,200 per individual adults and $2,400 for married couples and an additional $500 for each eligible child.
The full amount will be available for individuals making less than $75,000 and couples making less than $150,000 annually. The amount a person receives will phase out if they earn more, ending for those earning more than $99,000 annually.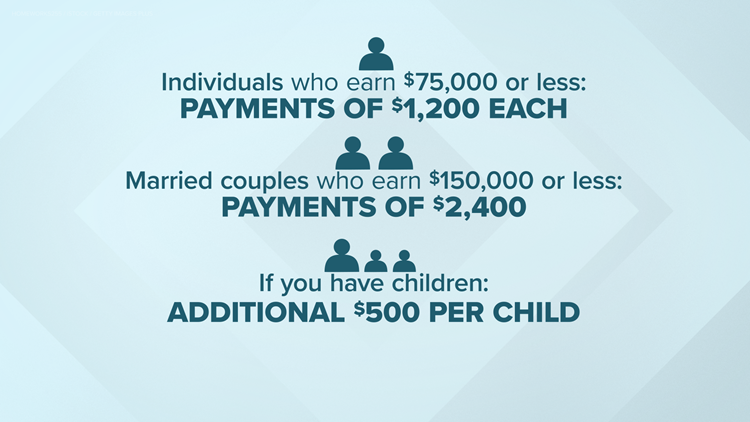 TEGNA
When will stimulus checks go out?
Senate Minority Leader Chuck Schumer said Wednesday that President Donald Trump wants to send the payments to people in less than two weeks, by April 6. But experts agree that could be a hard deadline to hit.
Democratic aides in the Senate told the New York Times that those with direct-deposit info on file with the IRS should see payments within a few weeks of the bill becoming law. However, if the IRS doesn't have that info, people may need to wait a lot longer to get a check. Aides told the Times it could be up to four months for a physical check to arrive.
The Tax Policy Center noted in 2008 there was a gap of about three months between passage of the stimulus legislation and the start-up of payments. Additionally, the IRS had worked for three months before enactment of advance payments of tax rate reductions in 2001 and child tax credits in 2003.