Raphael Gamaliel Warnock
(born July 23, 1969)  is an American pastor and politician from Georgia. A United States senator-elect after defeating incumbent Kelly Loeffler, Warnock will assume office in January 2021.
Warnock was the senior pastor of Douglas Memorial Community Church until 2005, when he became senior pastor of Ebenezer Baptist Church in Atlanta. He came to prominence in Georgia politics as a leading activist in the campaign to expand Medicaid under the Affordable Care Act. A member of the Democratic Party, Warnock ran in the 2020–21 United States Senate special election in Georgia against Loeffler, whom he defeated in the January 5, 2021 runoff. On the same day, fellow Democrat Jon Ossoff won the runoff for Georgia's other Senate seat.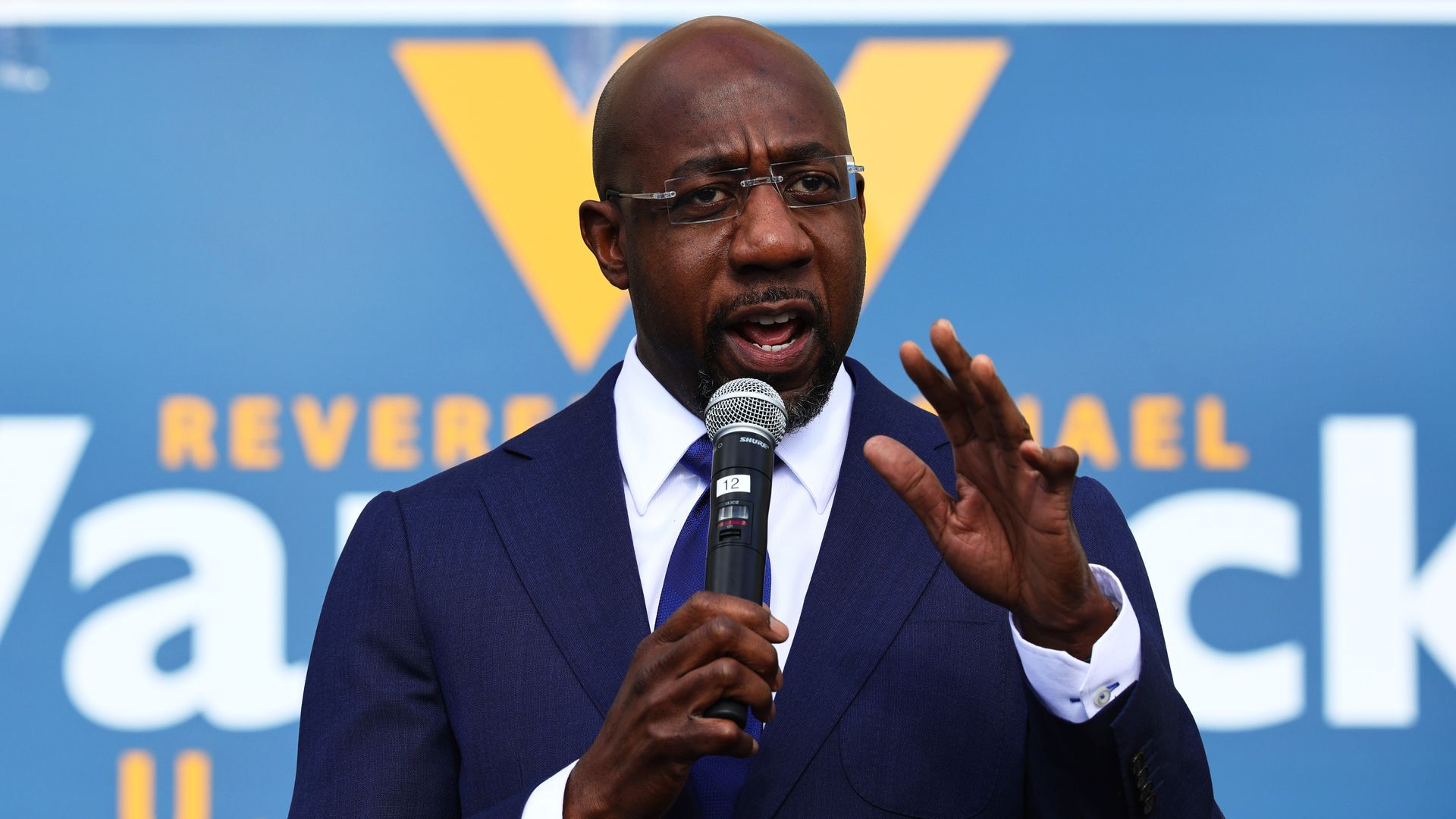 Warnock and Ossoff are the first Democrats elected to the U.S. Senate from Georgia since 2000. Warnock will be the first African-American to represent Georgia in the Senate and the first African-American Democrat elected to a senate seat by a former state of the Confederacy. Assuming Warnock is not sworn in on an earlier day than Ossoff, Warnock will become Georgia's junior senator because Ossoff's name comes first alphabetically.
Rev. Warnock's activism was honored in 2016, as his footprints were placed on the International Civil Rights Walk of Fame. Among other honors, Rev. Warnock has been recognized as one of "Atlanta's 55 Most Powerful" by Atlanta magazine, one of the "New Kingdom Voices" by Gospel Today magazine, one of "God's Trombones" by the Rainbow Push Coalition, a "Good Shepherd" by Associated Black Charities, one of the "Chosen Pastors" by The Gospel Choice Awards, "A Man of Influence" by the Atlanta Business League, one of The Root 100 in 2010, 2011, 2012 and 2013 (TheRoot.com a division of the Washington Post), one of the "Top 10 Most Influential Black Ministers" by Loop 21, one of the "20 Top African American Church Leaders" by TheRoot.com and he has received the Reverend Dr. William A. Jones Justice Award from the National Action Network. He is a National TRIO Achiever Award recipient and has been honored by induction into the Martin Luther King, Jr. Board of Preachers. As an opinion leader, his perspective has been sought out by electronic and print media, locally, nationally and internationally. His work has been featured on CNN, the CBS Evening News, the Huffington Post and in the Atlanta Journal and Constitution which hailed him "a leader among Atlanta – and national – clergy, a fitting heir to the mantle once worn by The Reverend Dr. Martin Luther King, Jr." At President Barack and First Lady Michelle Obama's request, Dr. Warnock delivered the closing prayer at the 2013 Inaugural Prayer Service held at the National Cathedral and delivered the sermon for the Annual White House Prayer breakfast in March 2016.
Rev. Warnock has preached his message of salvation and liberation in such places as The Riverside Church of New York and the International Festival of Homiletics. But he is just as comfortable in a small, country church or an urban storefront. His first book is entitled, The Divided Mind of the Black Church; Theology, Piety & Public Witness (NYU Press, 2014).
Rev. Warnock is married to Mrs. Oulèye Ndoye Warnock and they are the proud parents of two children – a daughter, Chloé, and a son, Caleb.